Salma Hayek's name is permanently etched in history!
The actress, philanthropist and mama has been honoured with the 2,709th star on the Hollywood Walk of Fame, surrounded by adoring fans, family and colleagues, Adam Sandler and Chloé Zhao. 
In her speech, Salma described the moment as "healing" because for many years, she associated the famous boulevard with a terrifying incident where she almost lost her life:
Advertisement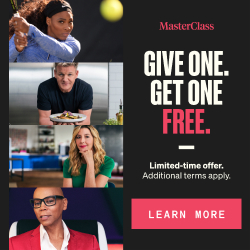 "About two years after I came to the States and I was very unsuccessfully trying to make a career for myself, a couple of friends came from Mexico and they asked me to take them to Hollywood Boulevard. And they wanted to buy souvenirs, you know Hollywood, Marilyn Monroe T-shirts, all these things," she begins.
"We came, and we're walking down the street and a poor man who was on the floor and was very messed up said something to me that I don't dare to repeat, but I ignored it and I kept walking… he took offence, got up, took a knife out and started coming after us, especially after me, trying to stab me. So we ran. I ran as fast as I could. Nobody helped us. I was asking; 'Somebody call the police!' Nobody came. "
Advertisement
Salma explains that eventually they got to safety but she went home that night thinking about how unwanted she felt in Hollywood and the many acts of racism she'd endured.
"I remember going to the movie theatres once and somebody kicking the back of my chair and saying, 'Mexican! Don't sit in front of me! Go back to your country!' I remember standing in the line to get some coffee and somebody grabbed me by the arm, shaking me and pulled me on the side and said, 'I'm not standing in line behind a Mexican!' I remember studios saying to me, 'Why don't you go back to do telenovelas? You'll never find a job here!'" she says.
"But I stayed."
Salma goes on to explain she will now have a positive memory of the Boulevard after receiving her star, and thanks her fans – some who have been with her for 37 years – crediting them with keeping her going.
Advertisement
She ends by encouraging us all to find something we love, like she did, "I stayed for the love of cinema" – and work hard to achieve our dreams too:
"If you think you're not good at it like I did, make yourself good at it. Be your best at everything you do. Try to find the joy in what you do. Work hard. Prepare. Don't care what anybody says. Most importantly, don't listen to yourself when you bring yourself down."
Salma, who is now 55, began her career in the late 80s but gained attention in Hollywood in 1995 when she starred in Desperado.
In 2002, she won the Best Actress Oscar for her starring role in Frida and has appeared in countless other movies and TV shows over the years including Ugly Betty, The Hitman's Wife's Bodyguard and more recently, Eternals and House of Gucci. 
(Feature Image Credit: Emma McIntyre/Getty Images)